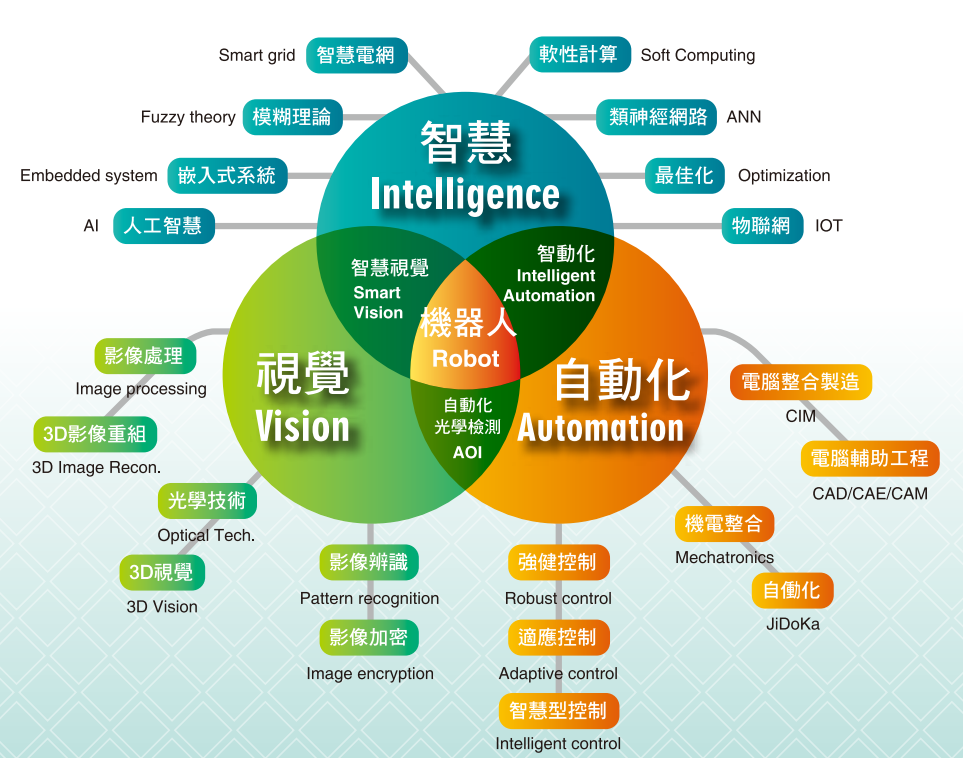 There are very good reasons you should study Automation Engineering at Taipei Tech:
We have a good tradition of training automation engineers
The Automation Technology Center (ATC) was formally established in 1991; it has accomplished many achievements and obtained great reputations in industrial applications, academic researches and education for many years. Therefore after ATC, Graduate Institute of Automation Technology (GIAT) was formally established in Sep, 2000 with the approval of Taiwan's Ministry of Education. The main goal of the GIAT is to "integrate the technologies in the areas of engineering, hardware and software in order to promote and educate the automation technology for industrial applications".
GIAT provides graduate programs and offers MS degree, Ph.D. degree for full time student, and MS degree for part-time student. There are about 145 graduate students in GIAT. The faculty of GIAT includes assistant professors, associate professors and professors with expertise in the areas of mechanical electronic engineering, electrical engineering, electronics, computing and industrial engineering etc. The courses of GIAT are designed to fulfill the idea of "Integration of theoretical and practical capabilities for automation technology research".
Both undergraduate and graduate programs of the AE(Automation Engineering) department are IEET accredited. The IEET accreditation is issued to educational institutions by the Institute of Engineering Education Taiwan (IEET), a non-profit and non-government organization. IEET is a member of Washington Accord, Seoul Accord, and NABEEA. As a result, being an IEET certificated institution, the degrees awarded by our department is recognized in many countries:
Australia - Australian Computer Society

Australia - Engineers Australia

Bangladesh - Board of Accreditation for Engineering and Technical Education

Canada - Engineers Canada

Canada - Canadian Information Processing Society

Hong Kong - The Hong Kong Institution of Engineers

Ireland - Engineers Ireland

Japan - Japan Accreditation Board for Engineering Education

Korea - Accreditation Board for Engineering Education of Korea

Malaysia - Board of Engineers Malaysia

Malaysia - Engineering Accreditation Council, Malaysia

New Zealand - Institution of Professional Engineers NZ

Pakistan - Pakistan Engineering Council

Philippines - Philippine Technological Council

Singapore - Institution of Engineers Singapore

South Africa - Engineering Council of South Africa

Thailand - Council of Engineers, Thailand

United Kingdom - British Computer Society

United Kingdom - Engineering Council UK

United States – ABET, Inc.
To earn an IEET accreditation, our programs must pass periodic evaluations by evaluators assigned by IEET. IEET assures that the students in the accredited institutions receive quality education. To conform to the requirements of IEET, our professors constantly improve their teaching materials, courses, etc., and the GIAT uses student feedbacks to iteratively improve our course portfolio.
We rank among the top universities
National Taipei University of Technology has been consistently ranked among the top universities in the South East Asia, East Asia, and the world for many years. For more information, please check out the following websites:
QS World University Rankings 2022 (469)
To become a degree student of Taipei Tech, please follow the instructions provided by our Office of International Affairs (click here

).
To become an exchange student of Taipei Tech, please follow the instructions provided by our Office of International Affairs (click here

).